What is a Certificate of Translation?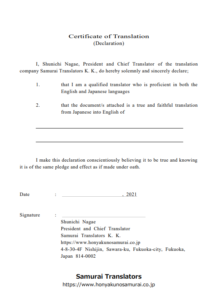 The Certificate of Translation contains the company's seal and the translator's signature. We have a long history in issuing Certificates of Translation and our certificates are recognized so you can rest at ease if you submit your documents with our Certificates of Translation. Generally recipients of documents require that Certificates of
Translations:
Should include the name of the translator, the name of the translation company, the address, telephone number and other contact details of the same.
Should be stamped with the company's seal.
Should be printed on company letterhead.
Should include an affidavit stating that the translation is a true and correct translation of the original document.
Sample of our Certificate of Translation >
What is notarization of translation? >